"June" score available now on Patreon
You watched my latest Youtube video and you want to play this arrangement, too? I'm excited to share with you that my arrangement of Tchaikovsky's "June" for violin and piano is available now on Patreon! Have a look and enjoy more scores and music I uploaded for you! 
Here is the link: https://www.patreon.com/katerina_chatzinikolau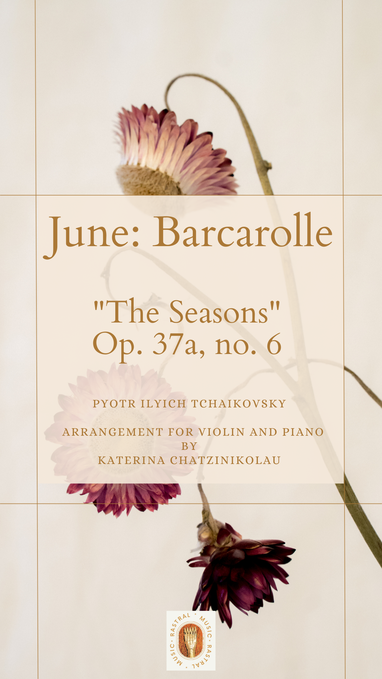 ---
P. I. Tchaikovsky: Premiere "June" arrangement now on Youtube

It's time to share with you some thoughts and first insights of my new Youtube video.

Tchaikovsky's "June" one of my favorite pieces since my childhood and it was "love at first sight".

It inspired me to write my own arrangement for violin and piano of this song.

This music combines soulful melancholy, mysterious sadness and the crucial understanding that even a vivid summer month like June will sooner or later come to an end.
Here is the video link: https://www.youtube.com/watch?v=Jl_RgqYOAIo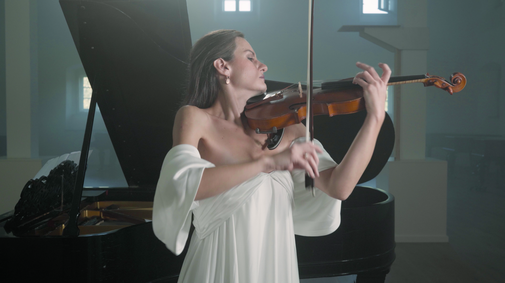 ---
Coming soon! New arrangement for violin solo
Surprise, surprise! It's my great pleasure and honour to share with you my collaboration with Greek unique designer and friend @miapapa.official. The "Artemis dress" is a key element in my next video that will come out on my YouTube Channel soon!

Ethical made and 100% finest silk from Soufli, Greece, adorned with hand-designed floor plan of Delos Amphitheater in Cyclades. 🏛

Still searching for the right summer outfit? Don't miss out Mia's new collection for both men and women at www.miapapa.com.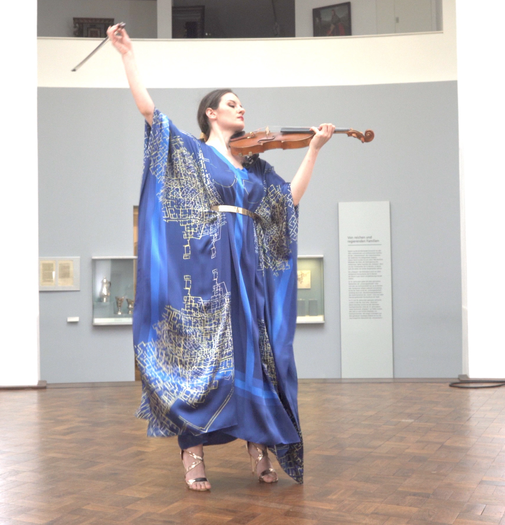 ---
Live Concert & Recording - Novacek's "Perpetuum mobile"
No chargers for iphones needed and no gasoline stations for cars anymore! Ever thought of a never stopping machine that doesn't need neither batteries nor electricity? A mechanism with infinite energy would be the greatest invention of the future! 
Violinist and composer Ottakar Novacek was clearly inspired by that idea more than 100 years ago. He liked this idea so much that he composed a piece for violin and piano that seemingly never runs out of batteries. Therefore the violin has to play many fast semi quaver notes that could go on and on forever. It seems that the little notes are producing the required energy to make the piece "flow".
Does a Perpetuum mobile exist! What do you think?
This video is a live recording from the Online Streaming Concert with the Grand ART Ensemble. 
---
Antonín Dvorák: Romantic Pieces
Live Charity Concert from the Riverside Studios for the victims of war in Nagorno-Karabakh. It was a great pleasure to share the stage with other musician friends like Anna Karapetyan, SIGNUM Saxophone Quartet, Nare Karoyan, Florian Noack and many others.
The romantic pieces by A. Dvorak are little gems in the violinistic repertoire. Every time I'm asked to play a heartfelt song I often choose this classical evergreen. 
---
W. A. Mozart: Aria from the Magic Flute - Queen of the night
The latest video with my arrangement of Mozart's world famous aria of the Queen of the Night is out now! For all those who are keen of playing this arrangement, too, go to my Patreon page. The score is waiting for you there!
---
US Debut at Carnegie Hall
I'm thrilled to announce that I have been selected as 1st price winner of the Golden Classical Music Awards 2020 and received the opportunity to play my debut at the Carnegie Hall in New York!